Orange Cardamom Muffins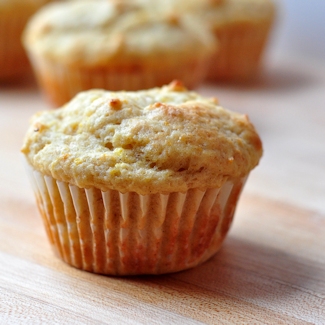 Recipe type:
Quick Breads - Muffins
Juice of 1 medium orange
Grated zest of 1 medium orange
1 teaspoon ground cardamom
½ teaspoon ground cinnamon
2 cups all purpose flour
½ cup granulated sugar
1 teaspoon baking powder
½ teaspoon baking soda
¾ teaspoon kosher salt
1 egg
⅓ cup olive oil
1 cup non-fat Greek Yogurt
1 teaspoon vanilla extract
In a small bowl, combine the juice, zest, cinnamon and cardamom, and allow to site at least an hour, or up to overnight.
Preheat oven to 350 degrees and prepare a 12 well regular muffin tin by placing liners in the wells.
In a medium bowl, whisk together the flour, sugar, baking powder, baking soda and salt.
In another medium bowl whisk together the egg, oil, yogurt, vanilla, along with the juice, zest and spice mixture.
Combine the wet and dry mixtures, mixing as little as possible to get them combined uniformly. This will be a lumpy batter. Divide evenly in the muffin tin and bake for approximately 15 minutes, until a toothpick inserted in the center of a muffin comes out clean [check several muffins in the different parts of the tin]. Serve warm with butter and/or jam. Muffins are best eaten pretty quickly but will keep for a day or two at room temperature, in a sealed container. Makes 12 regular sized muffins.