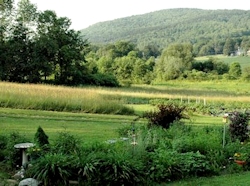 Half of the reason for The Creekside Cook is the garden – there would be no food to cook without a garden in which to grow it. If you believe, as we do, that the best food in the world is what you grow in your own back yard, then you can't neglect speaking about the garden.
We are extremely blessed to have nearly two acres of fertile "creek bottom" on which to garden. This land is actually the edge of the farm where Larry grew up. We moved back over here in 1982, when Ellyn was 4 and Lauren was only 2 weeks old. It was a couple months until we had running water, so anything that came along after that seemed easy by comparison! When the girls were small, we just had a small "kitchen garden" that fed us through the summer months, but not much past it, though I did can or freeze any excess veg that didn't get eaten up right away.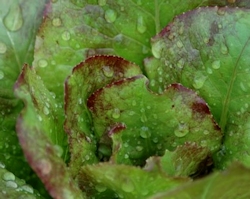 As the years have gone by and the girls have grown up and gotten out on their own, we've had more time, and our gardens have grown by leaps and bounds. As we get closer to retirement, we are determined to make our land pay for itself, because we are convinced all of the taxes will continue to go up while our income will be more or less fixed. That means providing more and more of what we eat, so that we don't have to buy it. Larry is in charge of the big vegetable garden, and the garlic, while I tend to the herb garden and small stand of fruit trees, as well as the decorative gardens. We both help each other with whatever needs doing of course. We are trying to discipline ourselves to keep more accurate records, and mark things better so we can keep track of what worked and what didn't. The results of those efforts are mixed, but even an unlabeled sun ripened tomato tastes awfully good.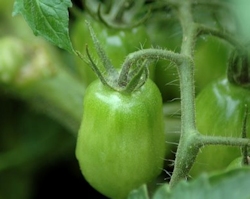 And though we garden because we want to feed ourselves, and because we want to know how our food was grown, and because in the long run it saves us money, the main reason we garden is because we love it.
We are compelled.
Driven.
Obsessed.
Gardening is pure joy to both of us, and there are few things in life that bring either of us more happiness than the stuff that we grow. We keep getting better at it, as we experiment and check out what other gardeners are doing, though heaven knows, we have our failures too.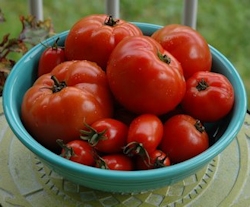 I hope you will enjoy seeing and reading about the gardening as well as you do the food and recipes. I'll share some of our tried and true methods, favorite varieties and best practices, as we know them. Our life is a good one, and I hope you will continue to enjoy what I share from it.
Here is an index of garden related posts: In The Garden