Chocolate Chip Pound Cake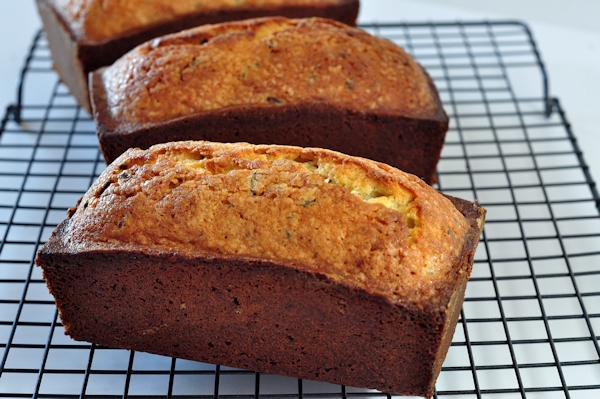 Recipe type:
Baking - Cakes
1 & ½ cups all purpose flour
½ teaspoon salt
¾ cup room temperature butter
4 ounces room temperature cream cheese [Philly brand is best]
1 & ½ cup granulated sugar
3 room temperature eggs
1 & ½ teaspoon pure vanilla extract
2 ounces bittersweet chocolate, roughly chopped
It is important, for the very best results, that all ingredients are at room temperature.
Preheat the oven to 350º
Prepare the pans - either 1 5 x 8 bread pan, or 3 mini pans. Butter & flour the pans generously, knocking out excess flour.
In a small bowl, whisk together the flour and salt - set aside.
In the bowl of the stand mixer, beat the butter and cream cheese for one minute, until completely combined.
Add the sugar, and beat at medium speed for 5 minutes.
Add the eggs one at a time, beating until completely incorporated, scraping the bowl down between each one.
Beat in the vanilla.
Turn the mixer off, put all of the flour and chocolate into the bowl, and then beat just until incorporated - about 30 seconds.
Scrape batter into prepared pans [If I am using the mini pans, I use a scale to make sure they are even], and place on the middle rack of the preheated oven.
For the 8 x 5 inch pan, it is going to take about 55 minutes, the smaller pans will take about 40 to 45 minutes. A toothpick inserted near the middle should come out clean - the tops will be very deeply browned and crisp.
Cool in the pan[s] for about 5 minutes or so, loosen the edges with an offset spatula or butter knife, and turn out onto a cooling rack.
Recipe by
The Creekside Cook
at https://thecreeksidecook.com/chocolate-chip-pound-cake/