Bean with Bacon Soup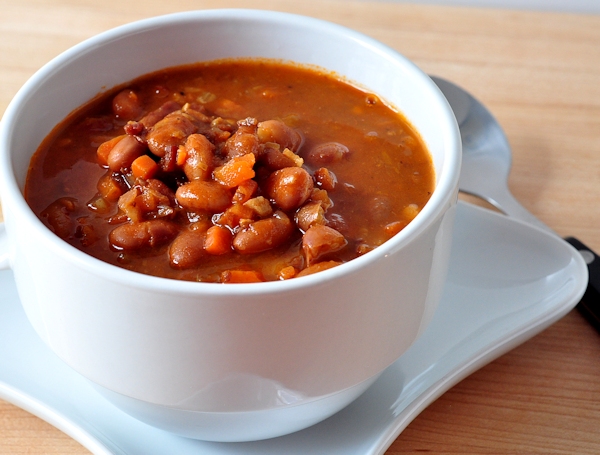 8 ounces smoky bacon, finely diced
1 ½ cup diced carrots
1 ½ cup diced celery
1 cup diced white onion
3 large garlic cloves, minced
½ teaspoon salt
15 grinds black pepper
2 cups tomato juice
2 cups chicken stock
4-5 cups water
1 pound dry pinto beans
1 tablespoon molasses
3 tablespoons red wine vinegar
1 teaspoon smoked paprika
½ teaspoon ground cumin
½ teaspoon dried thyme
½ teaspoon Siracha hot sauce
additional salt if needed
Add the finely diced bacon to a cold 5 quart heavy soup pot or Dutch oven. Turn heat to medium until bacon begins to sizzle a bit, and then reduce heat to very low. Cook for about 30 minutes, stirring frequently, until bacon is very crispy and all of the fat is rendered. Note: take care to keep heat under pan very low to prevent burning.
When the bacon is cooked, scrape it into a wire strainer that is suspended over a bowl to catch drippings.
Reserve the bacon and measure about 2 tablespoons of the drippings back into the pot, leaving all of the caramelized bits in the pan.
Add the carrots, celery, onion, salt and pepper and cook over medium heat, stirring frequently, for about 8 minutes.
Add the minced garlic and cook another couple minutes.
Add the tomato juice, chicken stock and 4 cups of the water, and stir to combine.
Dump in the beans, which have already been picked over and rinsed well.
Add the remaining ingredients, except the reserved bacon. Taste and add a bit of salt if it seems to need it.
Cover loosely with the lid and simmer over low heat for about 2 and half to 3 hours, stirring every so often. If it begins to seem too thick, you can add more water – up to a cup total. Once the beans are soft, add the cooked bacon back to the pan and cook another 15 minutes or so. Taste, and add more salt if needed. How much salt you need to add to the soup overall is going to depend on how salty the bacon is, so be cautious and only add a bit at a time.
Serving size:
10 ounce bowl