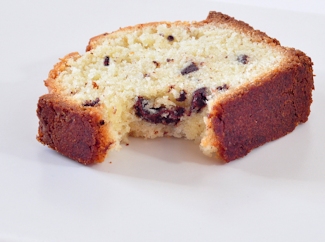 Pound cake – sometimes I think it exists just to prove that often, the simplest things are the very best of all. When it comes to making a cake, there are few that have more simple or humble ingredients than a pound cake. And, I would argue, there are none that taste better. A pound cake must have a few crucial requirements. Dense, but not heavy texture. A rich buttery flavor. A crisp, deeply colored exterior that retains a little bit of crunch, even after it cools.
It also requires a finished result that will help you flex your self-control muscles, as you strive to keep your portion down to a size that would be considered cultured and civilized. We are nothing if not civilized, so no flinging yourself headlong into the pan, please.
I adapted this recipe from one on Smitten Kitchen's site, by cutting it in half [I do NOT need a whole recipe's worth of this stuff screaming my name from the kitchen!], and adding the chocolate chips. As Deb notes in her recipe, Philly Cream Cheese is a good idea here, because it gives a predictable result, where cheaper brands often contain more moisture which just might yield a cake that gets dry by the time it gets baked all the way through. At least that is what I have heard – it's not like I tried to get by with store brand on the first run at this recipe or anything. Ahem.
Take all of your ingredients out of the fridge at least a couple hours before you begin – room temperature is what you are going for. The butter and cream cheese should be soft enough to blend easily, but not at all melty or losing their shape.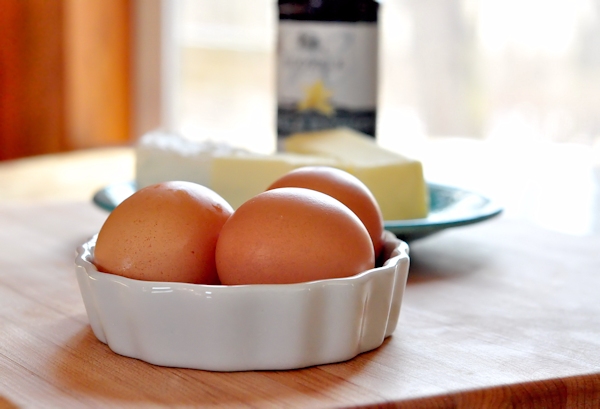 This can be baked in one 5 x 8 inch bread pan, or 3 mini loaves. Prepare the pans by buttering generously and then flouring, making sure to tap out excess flour. Preheat the oven to 350 degrees. The other thing you will want to do ahead is to chop the chocolate. You need about 2 ounces of bittersweet chocolate – I used Ghirardelli Bittersweet Chocolate Baking Chips,
about 1/3 cup and chopped them roughly. Did you know that a serrated knife, like a bread knife is the best for cutting up solid chocolate? It works like a dream, with no bits flying around, because the teeth really grab on and cut right through. I use my trusty old bread knife.

In a small bowl, whisk together
1 & 1/2 cups all purpose flour
1/2 teaspoon salt
In the bowl of a stand mixer, beat at medium speed, for 1 minute
3/4 cup room temperature butter
4 ounces room temperature cream cheese
Add, and beat at medium speed for 5 minutes
1 & 1/2 cups granulated sugar
When the butter, cream cheese and sugar mixture is very light and fluffy, add, one at a time
3 room temperature eggs,
scraping down sides of bowl as needed
Then, beat in
1 & 1/2 teaspoons vanilla extract
With mixer off, dump in the flour and salt, and the chopped chocolate. Mix on medium speed just until combined, not more than about 30 seconds or so.
Spread batter evenly in the pan or pans [I use a scale to get them even if I am baking the smaller ones] and place on center rack of oven. A large loaf is going to take about 55 minutes, and the smaller ones about 40 to 45 minutes. When they are finished, no crumbs will stick to a tooth pick inserted near the center. Remove to a cooling rack, and cool in the pan[s] for 5 minutes or so.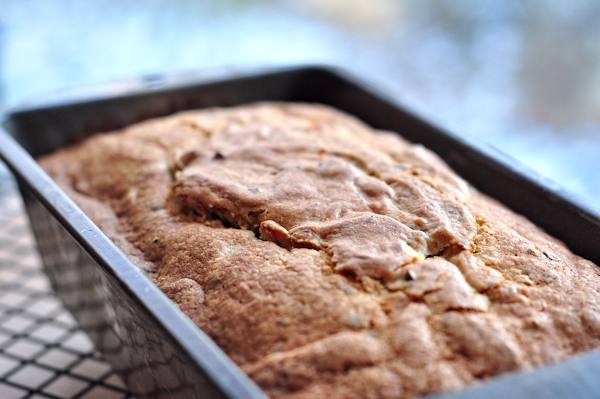 Carefully loosen edges with a blunt knife, or offset spatula, and turn cake out onto a rack to finish cooling.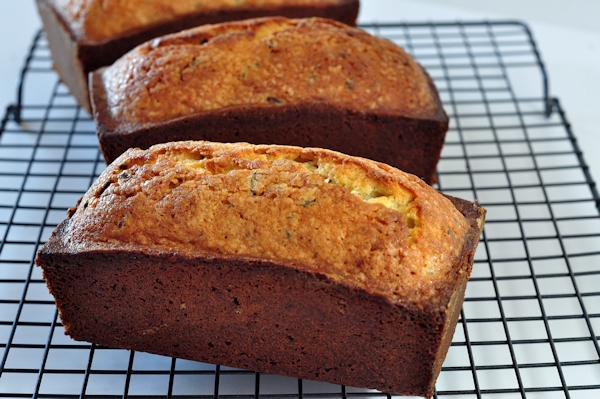 I think my favorite to enjoy this cake is just plain, because then you can taste all of the deep flavors and really enjoy the contrast between the soft interior and the crunchiness of the crust. On the other hand, you would not be making a mistake if you serve it with caramel sauce and whipped cream, or strawberries and whipped cream, or as the base for a hot fudge sundae. Or, you could get out a nice big bowl and throw everything in there at once.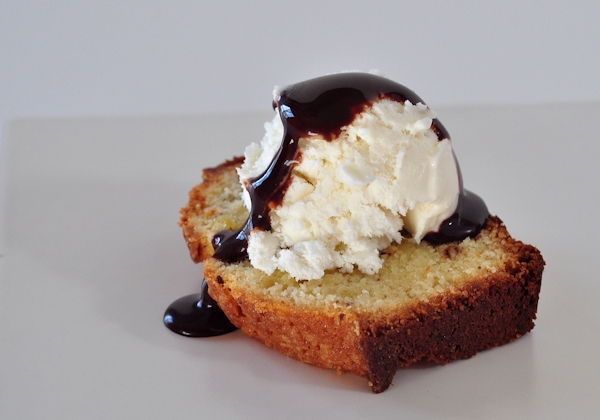 I do love simplicity, but on the other hand,I think I like ice cream even more!
Chocolate Chip Pound Cake
Buttery, dense and chocolate -ty.
Ingredients
1

& 1/2 cups all purpose flour

1/2

teaspoon

salt

3/4

cup

room temperature butter

4

ounces

room temperature cream cheese [Philly brand is best]

1

& 1/2 cup granulated sugar

3

room temperature eggs

1

& 1/2 teaspoon pure vanilla extract

2

ounces

bittersweet chocolate

roughly chopped
Instructions
It is important, for the very best results, that all ingredients are at room temperature.

Preheat the oven to 350º

Prepare the pans - either 1 5 x 8 bread pan, or 3 mini pans. Butter & flour the pans generously, knocking out excess flour.

In a small bowl, whisk together the flour and salt - set aside.

In the bowl of the stand mixer, beat the butter and cream cheese for one minute, until completely combined.

Add the sugar, and beat at medium speed for 5 minutes.

Add the eggs one at a time, beating until completely incorporated, scraping the bowl down between each one.

Beat in the vanilla.

Turn the mixer off, put all of the flour and chocolate into the bowl, and then beat just until incorporated - about 30 seconds.

Scrape batter into prepared pans [If I am using the mini pans, I use a scale to make sure they are even], and place on the middle rack of the preheated oven.

For the 8 x 5 inch pan, it is going to take about 55 minutes, the smaller pans will take about 40 to 45 minutes. A toothpick inserted near the middle should come out clean - the tops will be very deeply browned and crisp.

Cool in the pan[s] for about 5 minutes or so, loosen the edges with an offset spatula or butter knife, and turn out onto a cooling rack.