Saturday was the perfect day for hot wings. Did you know that if you eat hot, spicy food when the weather is really hot, you won't feel as hot?
Alright, I think I made that up actually, but on a day like Saturday, it would have been difficult to feel any hotter, thus, wings seemed like a perfect choice. So, I whipped up some potato salad and Larry fired up the grill. Yes, that is right – I said the grill. We never deep fry our wings.
When we first started making wings 25 years ago, we grilled them because it was so much cheaper. It takes a lot of oil to fill up our deep fryer, so we experimented with finding a cheaper alternative. You can just roast or broil them in the oven of course, and in the dead of winter, that is how I do it, but in the summer, the grill is our perfect solution. They are lower in fat too, so you can eat more of them, with less guilt. Not a lot less guilt probably, but we don't need to split hairs when we are talking about iconic summer food, right?
One important thing to note is that you need to think ahead to make these. Unlike the deep fried ones, they need to be thawed completely, plus we are going to marinate them for up to 24 hours. To have these Saturday night, I took the wings out of the freezer Friday morning, and once they were thawed, I put them in the marinade in the fridge for right around 24 hours, pulling them out to come to room temp an hour or so before dinner time on Saturday.
The marinade is easy to make, from stuff you most likely have sitting around your kitchen already.

The other consideration is what hot sauce to use. Here in the Northeast it is usually Frank's RedHot Hot Sauce, but in other parts of the country you might find Crystal Hot Sauce or Cholula, both of which will work nicely, though people around here will accuse of you heresy if you use anything but Frank's. Even if you like things spicy, you don't want the hot sauce to be a searingly hot one – you can add more chili powder to make it hotter, and Frank's also has a nice vinegar flavor as well, so it's a better choice than something like straight.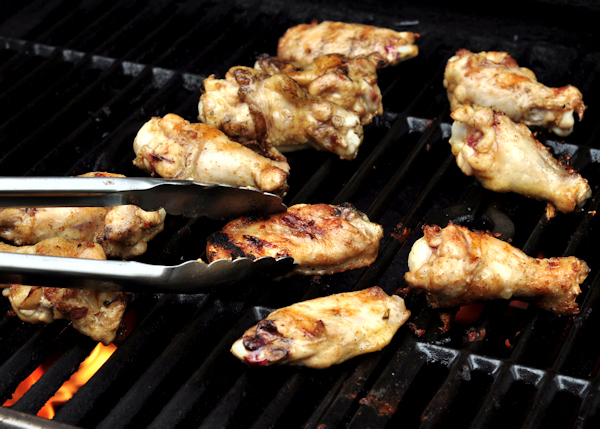 Grilled Buffalo Hot Wings
These are best if they can sit in the marinade for 24 hours, but you can get by with just an hour or two - the wings needs to be thawed, and since they are usually sold frozen, you will need to plan ahead.
Ingredients
3

pounds

of chicken wings - about 20 pieces
Marinade
1/3

cup

of olive oil

3

garlic cloves

peeled and mashed to a paste

1

teaspoon

kosher salt

10

grinds fresh black pepper

1

teaspoon

spicy chili powder
Wing Sauce
4

tablespoons

of butter

1/2

cup

of Frank's RedHot hot sauce

1

teaspoon

smoked paprika

1/2 to 1

teaspoon

chipotle chili powder

1

teaspoon

kosher salt

few grinds of pepper

juice of 1/2 a lemon
Instructions
Trim any dangly bits from the wings, because they will burn on the grill anyway.

Wash, and then pat dry

In a bowl large enough to hold the wings, whisk together the oil, mashed garlic, salt, pepper and spicy chili powder.

Add the wings, and stir to coat. Cover and refrigerate for up to 24 hours, stirring a few times. If you only have an hour or so, they will be fine on the counter.

An hour before you are going to start cooking, bring the bowl out and let the wings come to room temperature.

Prepare the wing sauce by measuring the butter, hot sauce, smoke paprika, chipotle chili powder, salt, pepper and lemon juice into a small sauce pan. Bring to a simmer and cook for a couple minutes. Set aside.

Prepare your grill or barbeque as you normally would to cook chicken, or according to the directions that came with it.

Grill the wings until done, basting with the oil marinade in the first 10 minutes, but not after that, to ensure food safety. You can check one of the wings by cutting into it near the bone - there should be no pink showing, and the outsides should have some nice char on them.

Put the cooked wings in a clean bowl, large enough to hold them all, and pour over the sauce mixture. Stir to coat all of the wings and serve with some celery stalks and bleu cheese dressing for dipping.
They are great with all of the usual Hot Wing additions – celery, bleu cheese dressing – and of course, potato salad.
So, give this a try and save the deep frying for onion rings!