You know those cheese crackers you can buy in the store? The little orange ones that have some kind of magnet in the bottom of the box, perfectly attuned to human physiology, so that you can't keep your hand out of there, but just keep going back in the box for another one?
For a long time, they just had one flavor, but they keep adding more and more all the time, including spicy ones. Did they really have to make spicy ones? They seem to have an even stronger magnet in those boxes than the regular kind.
So, I was sitting around last Saturday with no fewer than 500 other things I should have been doing, when it occurred to me, that I could probably make some of those myself. We would have spicy cheese crackers and I would have the perfect excuse for not doing the 500 things, which I am sure you have guessed I didn't want to do anyway. A win-win! I found a promising looking recipe over at my friend Amy's New Nostalgia site, but I fiddled with it a little to make the crackers spicy, and 'cause spicy is what I was craving. I also only had white cheddar, so I thought using tomato juice would be nice, for the flavor, and because then they would be the right color.
If you have a food processor, you can have these ready in no time [the dough should chill an hour before baking though, so make sure you leave time for that], but if you use a pastry cutter to blend everything, that won't take too terribly long either. I love my Cuisinart that Larry and girls pitched in together to get me for Christmas a couple years ago – so much better than any of the cheaper ones I have owned.
So-so-so easy – you put some ingredients in there, give a little spin, put in some liquid, give that a spin, and you are pretty much done.
The dough should be chilled, as I mentioned before, but if you are in a huge hurry, or didn't notice that part before you started, you can just bake them right up – they won't puff quite as much is all.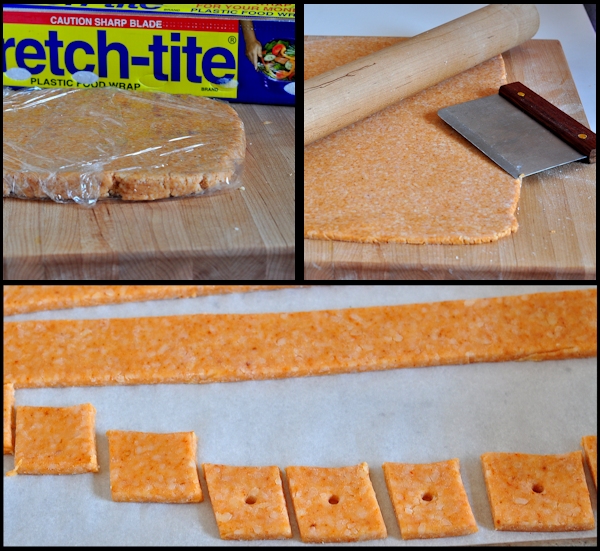 Spicy Tomato Cheese Crackers
Ingredients
1

cup

all purpose flour

4

tablespoons

cold butter

cut in small cubes

8

ounces

sharp cheddar cheese

grated

½

teaspoon

kosher salt [plus more for the top]

¼

teaspoon

onion powder

¼

teaspoon

garlic powder

½

teaspoon

smoked paprika

½

teaspoon

chipotle chili powder

6 to 8

tablespoons

V8 or tomato juice
Instructions
Put all ingredients except for the tomato juice in the food processor and pulse until it is combined and resembles coarse crumbs.

With processor running, add tomato or V8 juice, 1 tablespoon at a time, just until dough begins to come together.

Turn out on a floured surface, and knead briefly.

Shape into a flat disk, wrap in plastic wrap and chill for at least an hour. it will make things easier later on if you get it into a roughly squarish shape before chilling.

When chilled, roll out to about 1/8 of an inch thick, and cut into squares. Arrange squares on a parchment lined baking sheet, with a bit of space between them – they puff up, but not out very much, so they can be pretty close together.

Use a chopstick, or the flat end of a bamboo skewer to poke a hole in the middle of each cracker, and sprinkle lightly with kosher salt.

Bake at 400° for 15 to 17 minutes, until well browned around edges. Place on a cooling rack - they will crisp up as they cool off.

Store tightly covered for up to a week, though they are best if enjoyed pretty quickly after you make them.

If they seem to soften with storage, you can re-crisp them by baking at 350° for 5 minutes or so.

See how yummy?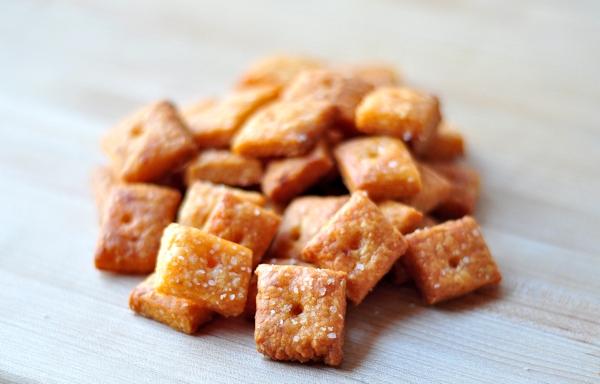 Easy, yummy, and you know exactly what you are getting – no weird ingredients, or chemical-ly sounding preservatives.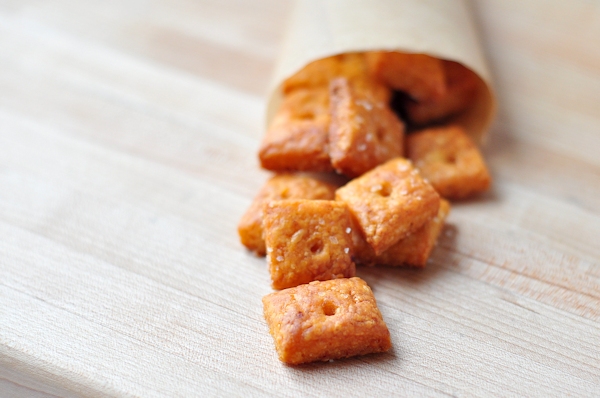 I imagine that kids would get a huge kick out of making these, and you can adjust the spiciness to suit their taste. I might have to do that the next time the grands are down for a visit. Or the next time I don't feel like doing any of the other stuff I should be doing…
Make sure you never miss a new recipe – click here to sign up for my weekly newsletter!
note: this post contains one or more Amazon affiliate links    and I make a small commission on your purchase.