I have a confession to make. For all my talk about fresh, homemade food, I love bean with bacon soup. And yes, I mean the stuff in the can with the red and white label. I know – it is a terrible secret, and I'm trusting you not to tell a soul. It is a childhood thing I suppose. Our Catholic school didn't have a lunch program, so we ate in the classroom; whatever our mothers had sent with us. Our Mom usually sent soup in the winter and I can still picture the metal lunch box on a wooden desk, and occasionally having to ask Sister Elise to take the lid off the thermos for me when it was stuck too hard for me to get it off. After a tough morning of wrestling numbers and letters around the classroom, that first whiff of bean and bacon soup was a wonderful respite. I never really got tired of it and even now I don't mind a bowl every once in awhile. This however, is several notches up from the canned stuff, but not a whole lot tougher to make – it just takes more time.
We bought a CSA share from a local pork producer this year, and while it is a bit more expensive what the normal offerings in the grocery store, it is worth every penny. Brad and Heather care about every aspect of what they do and it shows. If you live in the Southern Tier of upstate NY, I strongly suggest a trip to Ithaca to check out The Piggery. You can enjoy their fresh, innovative food in the deli, and pick up their products, along with other locally sourced meats in the butcher shop. One thing I always try to pick up are the containers of bacon ends, and this soup is the reason why. The bacon at The Piggery is not anything like your typical supermarket stuff. It is deeply smoky, with a rich porky flavor that fries up crisp and delicious. And a container of end trimmings is dirt cheap – a real bargain. If you aren't fortunate enough to live around here, you can look for a local producer where you live, or use a thick cut smoky bacon from the meat case – it is still going to make a great soup.
Whatever bacon you use, the first step is to get it completely cooked, until it is dark brown and crispy, with all of the fat rendered out. So to get started, chop about a half a pound of bacon [or more, if you are feeling particularly generous with yourself!] in a small dice. Put the bacon in a cold, 5 quart dutch oven or soup pot. Turn the heat on medium, until the bacon begins to sizzle a little. Turn the heat down very low, and let the bacon cook, uncovered until it looks like the photo below. This can take a half hour or so. There is no rushing this – the heat must be kept very low, or the bacon will start to burn which is not going to be all that yummy. You want just the barest sizzle going on. And look at the before-and-after comparison – over the half the weight of the bacon is gone in the drained off fat! Not exactly diet food, but not as fattening as you might think.
You're going to add plenty of veggies to this soup, along with fast cooking pinto beans, all of which is very good for you, so don't worry about a little bit of bacon. You can use navy beans, but plan on a 4 to 6 hour cooking time, and don't forget to soak them overnight first. Personally, I think the pintos add more heartiness and a richer flavor, and they only take 2 or 3 hours to cook.
Bean with Bacon Soup
You can use other types of beans in this, but make note of the cooking instructions for different types, and adjust your overall cooking time accordingly.
Ingredients
8

ounces

smoky bacon

finely diced

1 ½

cup

diced carrots

1 ½

cup

diced celery

1

cup

diced white onion

3

large garlic cloves

minced

½

teaspoon

salt

15

grinds black pepper

2

cups

tomato juice

2

cups

chicken stock

4-5

cups

water

1

pound

dry pinto beans

1

tablespoon

molasses

3

tablespoons

red wine vinegar

1

teaspoon

smoked paprika

½

teaspoon

ground cumin

½

teaspoon

dried thyme

½

teaspoon

Siracha hot sauce

additional salt if needed
Instructions
Add the finely diced bacon to a cold 5 quart heavy soup pot or Dutch oven. Turn heat to medium until bacon begins to sizzle a bit, and then reduce heat to very low. Cook for about 30 minutes, stirring frequently, until bacon is very crispy and all of the fat is rendered. Note: take care to keep heat under pan very low to prevent burning.

When the bacon is cooked, scrape it into a wire strainer that is suspended over a bowl to catch drippings.

Reserve the bacon and measure about 2 tablespoons of the drippings back into the pot, leaving all of the caramelized bits in the pan.

Add the carrots, celery, onion, salt and pepper and cook over medium heat, stirring frequently, for about 8 minutes.

Add the minced garlic and cook another couple minutes.

Add the tomato juice, chicken stock and 4 cups of the water, and stir to combine.

Dump in the beans, which have already been picked over and rinsed well.

Add the remaining ingredients, except the reserved bacon. Taste and add a bit of salt if it seems to need it.

Cover loosely with the lid and simmer over low heat for about 2 and half to 3 hours, stirring every so often. If it begins to seem too thick, you can add more water – up to a cup total. Once the beans are soft, add the cooked bacon back to the pan and cook another 15 minutes or so. Taste, and add more salt if needed. How much salt you need to add to the soup overall is going to depend on how salty the bacon is, so be cautious and only add a bit at a time.
Nutrition
Like many soups and stews, this definitely benefits from a little sitting time for the flavors to deepen and meld. I like to make it early in the day, and then cool it off before reheating to serve for dinner. [it will be fine at room temp for a couple hours, but any longer than that, and you should stick it in the fridge] It's also really good after refrigerating or freezing.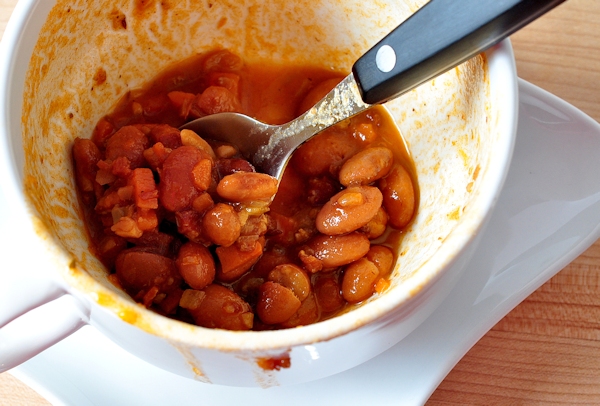 So, does this version measure up to my childhood memories? It definitely does, and even surpasses it – I have a lot better taste now, than I did in second grade!